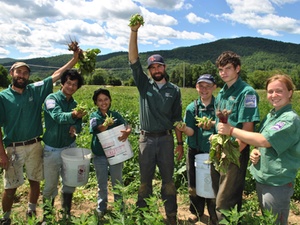 The Farm at VYCC
Cultivating Responsible Youth
The Farm's mission is to measurably and significantly reduce the adverse effects of hunger, malnutrition, and obesity in Vermont.
The Farm at VYCC

History and Supporters
Since moving our offices to the renovated West Monitor Barn and accompanying lands in 2005, the VYCC has experienced how a physical space can transform the capacity of an organization. In 2009, VYCC established an organic vegetable garden. Today, the Farm at VYCC includes 5.5 cultivated acres, 3 greenhouses, a Pick Your Own garden, a system to wash and store harvested produce, a chicken brooder and chicken pasture, and poultry processing equipment.
Jane's Trust was the initial supporter who provided funds to launch the Farm program.
Maple Wind Farm was a crucial partner in our early years while VYCC staff learned how to run a farm and a CSA business. Their support helped the VYCC build the infrastructure needed to grow, harvest, and distribute food.
The WalMart Foundation has also been a strong supporter of the Farm at VYCC. Their financial support has literally been measured by the ton – tons of food that they help us donate to Vermonters who rely on food shelves.
The Russell Family's support enabled the Farm to purchase a tractor in 2012. This fundamental piece of equipment greatly increases a farm's capacity.
Also in 2012, Central Vermont Medical Center is partnering with the VYCC to pilot our Health Care Shares program (see below). VYCC is one of three organizations to participate in WalMart's Associates Choice Program. Thank You, WalMart and WalMart Associates for your vote!
Alleviating Hunger
One out of every seven Vermont households does not have enough food to meet basic needs. An alarming 27,100 children are hungry, and 90,000 Vermonters of all ages depend on food shelves each month. We believe all members of our community should have access to fresh and healthy food. Here's how The Farm at VYCC is addressing this problem
Health Care Shares – In partnership with Central Vermont Medical Center (CVMC), VYCC is providing food directly to families in need. Families receive over 10 pounds of fresh, organic produce each week for 12 weeks.
Poultry Donations – In addition to fresh fruit and vegetables, VYCC donates chickens to those in need. This healthy source of protein, combined with fresh produce, provides the healthy foods that are hardest to find on a budget.
You can help a family this summer by purchasing a Health Care Share and/or poultry. Help us reach our goal of feeding 200 local families.
Our Community Cares Camp – Since Day One, our Community Cares Camp has been a great partner. Their focus on providing a structured summer experience for young people who might otherwise lack access to three meals a day in the summer makes them a logical partner. Support of the Farm at VYCC will allows us to donate food to this local organization.
The Farm as a Living Classroom
A farm is a natural environment for exploration and discovery. The Farm at VYCC teaches youth how food is grown and harvested, and the value of maintaining a healthy lifestyle.
Conservation Crews This summer (2012), a crew supported by the Vermont Department of Labor's Workforce Investment Act will produce and distribute the food we grow for families in need. They will take part in The Learning Kitchen, sponsored by Hunger Free Vermont at VYCC Headquarters. Through many valuable experiences, they will learn valuable work habits and skills to carry with them even after completing the season.
High School Leadership Program Two of our HSLP classes are held on the VYCC campus, and these students take full advantage of being on a farm. For example, one class built raised beds and planted tomato seeds. They then harvested the tomatoes to make tomato sauce. We believe these educational lessons and experiences have a deep, positive, lasting impact on participants.
Farm interns learn how to manage a significant farm operation, including soil health, cover cropping, greenhouse seeding, transplanting, harvesting, the CSA business model, farmers market vending, poultry husbandry, and leading VYCC crews. Interns are then able to use what they have learned to further their studies and affect positive social change. Meet this year's interns!
What's Growing?
Fruits and Vegetables
We produce a consistent mix of fruits and vegetables that are nutritious, familiar, and easy to use, including:

b
roccoli, beets, basil, beans, cabbage, carrots, chard, corn, cucumber, eggplant, garlic, kale, leek, lettuce, melon, onions, parsley, peas, pepper, potatoes, radish, scallions, spinach, squash, and tomatoes.
Flowers
Chickens on pasture